John Kokko L.Ac. (South Berkeley Clinic)
Morgan Filler, CMT (South Berkeley Clinic)
Naandi Puja-Joy, L.Ac. (South Berkeley Clinic)
Kyle Miura LAc, DipIOM, MDiv, MSCP, MPH (North Berkeley Clinic)
Heather Davis, CMT (North Berkeley Clinic)
---
John Kokko, L.Ac., Licensed Acupuncturist AC # 12141
Welcome to theTurtle Island Integrative Health clinic.
"Kokko" is a name I inherited from my step-father, which translates as "bonfire" in Finnish.My mother is Korean and our family name is "Lim", which means "grove of trees".On our island named Sun-yu-do in the Yellow Sea,my great-grandmother was a traditional herbalist.She found wild Korean ginseng in the mountains and lived to almost 100!
Today my family enjoys hunting medicinal mushrooms on the weekends in the Colorado mountains. I specialize in chronic and acute pain relief, natural weight loss & post-stroke recovery.
Along with clinical practice and teaching, I also direct Acupuncture Board preparation courses(www.tcmreview.com)and have helped hundreds of acupuncturists pass their state and national boards.My passion is translating the depth of the medicine to all of my patients, with a commitment to your core well-being and supporting a healthy and whole community.
Teaching Positions:The Academy of Chinese Culture and Health Sciences, Oakland (Herbology, Formulas, Acupuncture)
The American College of Traditional Chinese Medicine, SF (Comprehensives)
Training:American College of Traditional Chinese Medicine,SF
Traditional Chinese Medical College of Hawaii,Big Island(Dr. Lam Kong's lineage)
Post-graduate training in the Shang Han Lun (Dr Zeng's lineage) with Arnaud Versluys, PhD
Internships:California Pacific Medical Center (CPMC),SF(Integrative Stroke-rehabilitation center)
Maxine Hall Medical Center(SF Dept. of Health)
Jewish Home for the Aged, SF
Herbal Experience:Mayway Chinese Herb Corporation 2002-2008
---
Morgan Filler C.M.T.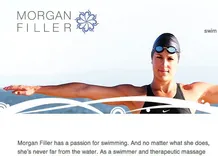 We live in a fast paced society that has a tendency to dominate our lives. I want to be the influential quietness achiever. I want to change the way you feel about your body. I want you to move without pain or tension and with ease and fluidity: To become confident and full of vitality. To create a place within yourself so you can be and do what you wish.

For years, my focus with massage has been to make YOU a priority. I want to help rejuvenate your body, restore your natural balance, and return and enhance your essential energy.

I draw inspiration from my personal experiences. As a professional open water marathon swimmer, I have developed a heightened awareness of my body's capabilities, inner resources, and needs. I have pushed my body to physical extremes, including swims that lasted up to 11 hours. The body is incredibly strong and powerful and graceful. I am sensitive to and aware of your connectedness with life. I help with Balance- supporting your movement, efficiency, and power.

I work to integrate my knowledge of the multi-layered human body to understand the individual body. In addition, I want share information about what I learn from your body, so you too can be your own healer.

Allow me to devote my time to you, to create a rhythm for change specifically for you.

I invite you to be well.
www.morganfiller.com
---
Kyle Miura, LAc, DipLOM, MDiv, MSCP, MPH, Acupuncture & Integrative Health
Kyle Miura is a licensed acupuncturist, herbalist, and massage therapist (California and Hawaii) and a Diplomate in Oriental Medicine, Chinese Herbology, and Asian Bodywork (NCCAOM).
He is a registered instructor of the American Oriental Bodywork Therapies of Asia (AOBTA), and an approved provider of continuing education for the National Certification Board of Massage Therapy and Bodywork (NCBTMB).
Kyle has done advanced doctoral work in acupuncture at Five Branches University, and studied with Ba Xian Temple (China) monk and acupuncturist Michael Hamilton, and Hajime Nakane Sensei of Kyoto (Japan).
He currently teaches at the University of Hawaii and the Acupressure Institute in Berkeley, and teaches yoga at the downtown Berkeley YMCA and Niroga Institute, Berkeley.
Kyle has also earned master's degrees in public health, counseling psychology, religious studies; with bachelor's degrees in genetics, and sociology.
He is an alumnus of the Acupressure Institute (1999) with over 1,000 hours of Asian bodywork training.